In the afternoon of September 7, 2017, Professor Cristian Marchioli from University of Udine and International Centre for Mechanical Sciences (CISM) visited BICTAM, during which he delivered an academic lecture titled "Large-Eddy Simulation of Turbulent Dispersed Flow: Modelling subgrid effects on particle dispersion" at Institute of Mechanics, Chinese Academy of Sciences (IMCAS). Professor Jiachun Li, Co-chairman of BITAM, chaired the lecture.
At the lecture, Prof. Marchioli mainly reported on research advances he had done in large-eddy simulation of turbulent dispersed flow. He also presented the basic situation of CISM. Over 30 scholars and students from IMCAS, Institute of Engineering Thermophysics, Chinese Academy of Sciences and Tsinghua University, attended the lecture.
After the lecture, the BICTAM Secretariat briefly introduced the current situation of academic activities and the model of international cooperation of the Centre. The two sides discussed at length future cooperation relating to co-organized international short courses, international symposia held once every two or three years and publications, hoping for furthering their international collaboration and exchanges regularly.
Following the meeting, Prof. Marchioli, accompanied by Academician Jiachun Li, also visited the BICTAM office.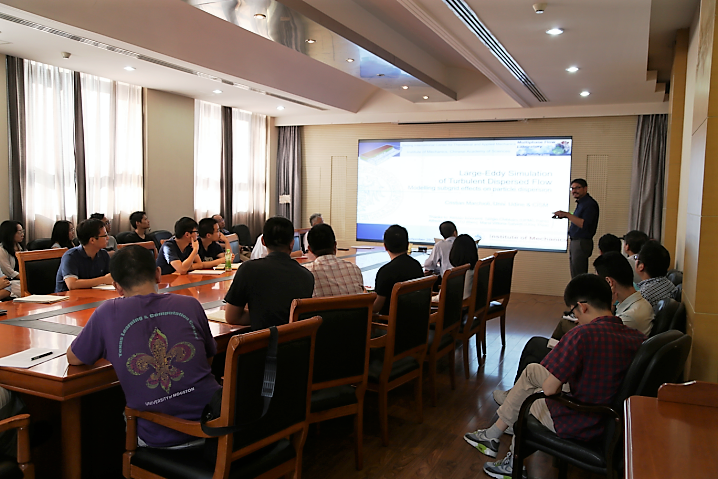 Introduction of CISM
CISM, International Centre for Mechanical Sciences, was founded in Udine, Italy in 1968. It was affiliated to the International Union of Theoretical and Applied Mechanics (IUTAM) in 1970. The principal activity of CISM is the organization of advanced courses to researchers and advanced training for engineers operating in industry. The Centre also organizes typical seminars and holds joint summer schools with IUTAM irregularly. In addition, CISM partnered with international publisher Springer to publish courses and lectures, which increased its global reach and influence effectively.